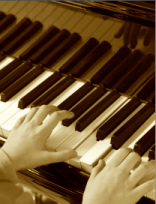 The American Prize in Piano Performance, 2023-24


The American Prize in Piano Performance recognizes and rewards the best performances by classically trained pianists in America, based on submitted applications. There is no live competition. There are separate contests for solo pianists and for piano concerto performances (The Lorin Hollander Award), which now includes an option for concerti with multiple soloists.
Pianists performing with others may also apply for The American Prize in Chamber Music Performance. Applicants performing American Music should also consider applying for the BACON AWARD. (Click "American Music" in the "Competitions" menu, above). In this division we are accepting performances made within the last five years.
Categories: professional, college/universty, community, high school. Click the links below for complete information.

REVISED DEADLINE (because of many requests): Tuesday, Sept 26, 2023. Questions?
Email: theamericanprize@gmail.com


APPLICATION OPTIONS:
*pay application fees online—or by credit card, money order or check.
*provide online links to audition selections—or send recordings by mail.
*fill out the application on your computer and email it to the office, or scan (or photo) and email or send by U.S. mail.
WHAT CONTESTANTS WIN:
The American Prize is more than monetary. The Prize grew from the belief that a great deal of excellent music being made in this country goes unrecognized and unheralded, not only in our major cities, but all across the country...in schools and churches, in colleges and universities, and by community and professional musicians. Laureates of The American Prize at all levels of achievement derive local, regional and national recognition to help generate jobs, build audiences and sustain careers. Semi-finalists, finalists and winners are announced to national arts media and on our websites, where winners are profiled. Semi-finalists, finalists and winners earn the right to use The American Prize logo and official seal on printed programs and other documents, and on the web. Thousands of artists have derived benefit from their participation in the contests of The American Prize.

SEMI-FINALISTS: All semi-finalists receive official certificates.

FINALISTS and RUNNERS-UP: All finalists receive certificates and short comments about their audition. Runners-up receive certificates and written, unbiased evaluations from our distinguished national panel of judges. When winners are announced on The American Prize blog, RUNNERS-UP are also profiled with photos, biographies and website links.

WINNERS: A single winner in each category and/or division is selected. Winners receive certificates, written evaluations, personalized press releases sent by us to local media and other contacts you provide as part of your application, and cash prizes up to $500, depending on the year, the category and the number of entrants. Only with your explicit permission, excerpts of winning performances may be posted to The American Prize channel on YouTube.

The judges reserve the right to award citations and honorable mentions as warranted, and to combine categories when necessary. The decision of the judges is final.

CLICK the competition names below for APPLICATION FORM and REQUIREMENTS.

Piano Performance—solo piano
categories: professional, college/university, community, high school

Piano Performance: The Lorin Hollander Award—piano concerto and multiple soloist concerto
categories: professional, college/university, community, high school