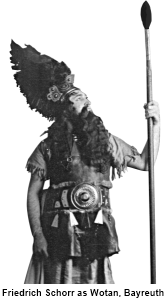 The American Prize in Vocal Performance, 2015
Friedrich and Virginia Schorr
Memorial Award

Deadline extensions to Tuesday, March 10th. No need to email in advance.
BACKGROUND
The American Prize in Vocal Performance—Friedrich and Virginia Schorr Memorial Award, honors the memory of the greatest Wagnerian baritone of his age, Friedrich Schorr, who commanded the operatic stage between the world wars, and his wife, Virginia Schorr, who taught studio voice at the Manhattan School of Music and the Hartt School of Music for nearly fifty years. The Prize recognizes and rewards the best performances by classically trained vocalists in America in 2015, based on submitted recordings.
NEW ONLINE OPTIONS for 2015:
NEW—you now have the option to pay application fees online—or by check or credit card.
NEW—you now have the option to provide online links to your audition selections—or send recordings by mail.
NEW—you now have the option to fill out the application on your computer and email it directly to the office—or write by hand and send by mail.
WHAT CONTESTANTS WIN:
The American Prize is more than monetary. Semi-finalists, finalists and winners are announced to national arts media and on our websites, where winners are profiled. Semi-finalists, finalists and winners earn the right to use The American Prize logo and official seal on printed programs and other documents, and on the web.

SEMI-FINALISTS: All semi-finalists receive official certificates.
FINALISTS: All finalists receive certificates and written, unbiased evaluations from our distinguished national panel of judges.
RUNNERS-UP: Runners-up receive certificates, written evaluations and personalized press releases sent by us to local media and other contacts you provide as part of your application.
WINNERS: A single winner in each category and/or division is selected. Winners receive certificates, written evaluations, personalized press releases and cash prizes up to $500, depending on the year, the category and the number of entrants. Only with your explicit permission, excerpts of winning performances may be posted to The American Prize channel on
YouTube.


The judges reserve the right to award citations and honorable mentions as warranted, and to combine categories when necessary. The decision of the judges is final.


Additional opportunity: 2015 CHICAGO MUSICAL THEATER AWARD—four $1500 prizes—APPLICATIONS CLOSED.


Make your debut at Orchestra Hall / Symphony Center, Chicago,
in the music of Rodgers & Hammerstein.
In 2015, in addition to the national competitions listed here, four $1500 prizes will be awarded as performance fees to soloists selected to appear under Maestro David Katz's baton in concert with the Chicago Bar Association Symphony Orchestra & Chorus, and the Elgin Master Chorale, performing "Something Wonderful: The Music of Rodgers and Hammerstein," in both Elgin (IL) and at Orchestra Hall / Symphony Center, Chicago, home of the Chicago Symphony Orchestra. For more information about this additional opportunity, which is limited to applicants in the professional and college/university divisions, please download the opera/operetta or art song/oratorio applications on the pages below.
CLICK HERE for Vocal Performance—Opera/Operetta APPLICATION FORM and REQUIREMENTS
categories: professional, college/university—pre-professional, amateur/community, high school

CLICK HERE for Vocal Performance—Art Song/Oratorio APPLICATION FORM and REQUIREMENTS
categories: professional, college/university—pre-professional, amateur/community, high school