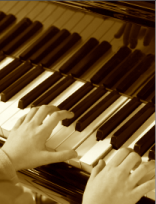 The American Prize in Piano Performance, 2013


The American Prize in Piano Performance recognizes and rewards the best performances by classically trained pianists in America in 2013, based on submitted applications.
WHAT CONTESTANTS WIN:
The American Prize is more than monetary. Semi-finalists, finalists and winners are announced to national arts media and on our websites, where winners are profiled. Semi-finalists, finalists and winners earn the right to use The American Prize logo and official seal on printed programs and other documents, and on the web.

SEMI-FINALISTS: All semi-finalists receive official certificates.
FINALISTS: All finalists receive certificates and written, unbiased evaluations from our distinguished national panel of judges.
RUNNERS-UP: Runners-up receive certificates, written evaluations and personalized press releases sent by us to local media and other contacts you provide as part of your application.
WINNERS: A single winner in each category and/or division is selected. Winners receive certificates, written evaluations, personalized press releases and cash prizes up to $500, depending on the year, the category and the number of entrants. Excerpts of winning performances will be posted to The American Prize channel on
YouTube
.

The judges reserve the right to award citations and honorable mentions as warranted, and to combine categories when necessary. The decision of the judges is final.

To see how previous laureates of The American Prize have used their placement in the competitions to promote their careers, please visit The American Prize Winning Links.


CLICK the competition names below for APPLICATION FORM and REQUIREMENTS.
Piano Performance—solo piano
categories: professional, college/university—pre-professional, amateur/community, high school

Piano Performance—concerto
categories: professional, college/university—pre-professional, amateur/community, high school